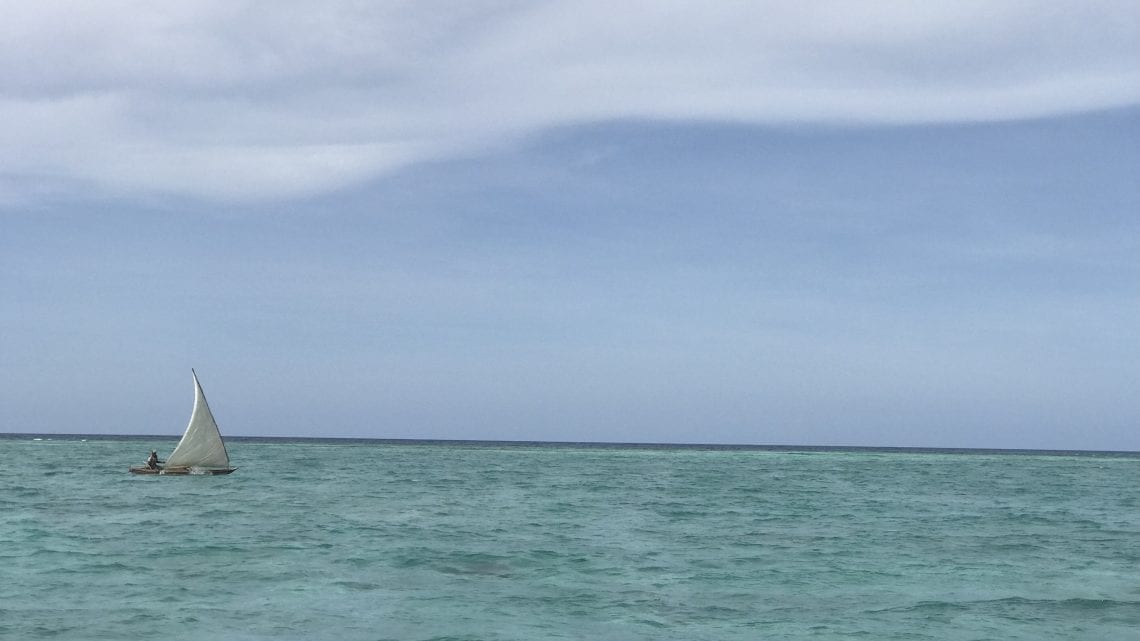 Zanzibar, the little heaven
Located only 40 km from the Tanzanian coast, the Zanzibar archipelago is a little heaven. We spent 6 days on the Unguja island more known as Zanzibar. Those few days were enough to get a nice overview of different spots and gave us the will to come back.
---
| STONE TOWN
We came to the capital by plane from the Kilimanjaro airport. At the arrival, like in every airport, the taxi drivers were waiting for us with excessive price. Bad luck for us, it's 9 pm and no Dala Dala ( public transport) are available… We'll not make it without grabbing a cab. After a good bargain session we finally agreed to go to the hotel for 20000 Tanzanian shillings (7,70€). We spent 2 intense days in Stone town: follow the guide 🙂
GET INTO THE AMBIANCE
It's very simple, just walk into the city which feels like a Marocain medina. I really like the huge doors which were carved into the wood. You'll find street vendors selling some delicious ginger tea called "Tangawizi Chaï" in Swahili. You'll also find some square where the locals drink coffee in the street. Just take a cup, sit down, relax and watch around. The locals will most probably come and start chatting with you. The city has many beautiful restaurants and coffee places. Don't hesitate to push some doors and discover some unexpected places.
THE SPICE TOUR
Zanzibar is also known as the spice island. You'll find many spice farms which you can visit by doing a "spice tour". We went to a farm which was located quite close to Stone Town. To go their, you can take the Dala dala 120. We tried to catch it but after waiting for over an hour under the rain we finnaly found a Badjaj (tuk tuk) which took us for 10000 shillings.
The visit of the farm is free. We would encourage you to take a guide which you can pay how much you'd like. We gave him 10000 shilling because he gave us a nice and complete tour and we felt learning a lot. We made a small break to see "Mr Butterfly". We thought that he will pick a coconut for us. Bus actually, he made a "sexy" dance/show on the palm tree which was a little awkward. The positive point is that Jan got a palm climbing lesson. We spent 5000 shilling for one coconut and the show. Our guide was really nice and took us back to the city. We finnaly found the 120 dala Dala which costed only 500 shilling per person. He dropped us in a local restaurant where we ate a delicious biryani which was really cheap.
THE SLAVE MARKET
This museum give you an overview from the time when Zanzibar was a famous slave trading place. Their is a lot of stories to read. You'll be able to visit the slaves cells and also the church which is located next to the market. The price for the museum is 5$ for foreigners.
THE OLD FORTRESS
Built by the end of XVII century by the Omani, it's the city's oldest building. You can enter it for free and enjoy the calm and quietness. You can also buy some souvenir from the shops surrounding the place.
THE GOOD MARKET
Every night, when the sun comes down, the Forodhani Garden becomes a big streetfood market. You'll find a big variety of products: Zanzibar pizza, seafood sticks, kefta sandwiches, ciapati and much more…The ambiance is nice and the food is very good to. The prices are a little expansive so don't hesitate to bargain a bit. Compare to European prices it still remains quiet cheap. Try it at least once.
Hôtels are available for all sort of budgets. We stayed in a clean and beat place with good staff and a very nice rooftop. We paied 25€ per night for 2 persons with included break.
---
| NUGWI – The balneaire city up north
After 2 days spent in Stone Town, we went up north to enjoy the beautiful beaches the island has to offer. From Stone Town we took a dala dala to Nungwi for 600 shilling each. We choose a very confortable bungalow right at the beach front (40€ per night including breakfast and sunbeds). Their were cheaper options which were located more inland.
Nugwi is a very touristic city located along the beach with many resorts, bar and restaurants. If you walk few minutes you'll get away from the crowd and find delicious local restaurants. We loved Almanna restaurant which was located at the city entrance at the dala dala stop. Their is a big buffet table where you can choose all what you like. It's delicious and the price is unbeatable.
We went on a snorkeling excursion for one day to Mnemba island. The boat trip started at 9 am and we came back a 4 pm. The island is the property of Bill gates and nobody is allowed to step on it. We did some snorkeling and had lunch. In addition, we got lucky by Nava sting back accompanied by a group of dolphins. We paied 45000 shilling each but you can get it for a little cheaper by bargain directly on the beach.
As you can see we had an amazing time their. We enjoyed our time, relaxed on the beach combined with good food and a bit of sport..truely a dream life.
---
| BACK TO DAR ES SALAM
We made a mistake by taking a flight to Dubaï from Dar es salam and not from zanzibar. We went back by boat to dar es salam airport to catch our flight to Dubaï. We felt really stupid when our plane stopped in Zanzibar to collect more passenger (some passenger did the snorkeling excursion with us the day before 😂).